Working Remotely: Ways To Make A Shared Space More Comfortable
Working Remotely: Ways To Make A Shared Space More Comfortable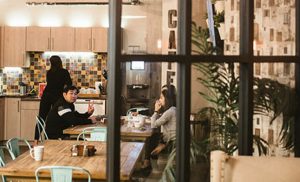 Working remotely has become more and more popular. A life that was once only for freelancers and artists is now something that is offered by companies all over the world. And there's no denying why it's such a desired lifestyle – it allows for flexibility and freedom in environment and hours! Because of the high demand to work remotely, coworking spaces have flourished. Coworking spaces allow remote workers to have a feel of the office environment with no commitment to set hours or the stress of owning their own physical space. However, it's difficult for remote workers to reap the benefits of making their office or cubicle comfortable and efficient for their work needs, and it's important to make the shared space you use to get your work done comfortably.
Take note of the temperature
If you know the temperature of your workspace, make sure you plan to ensure you're comfortable all day long. If the office is hot in the winter due to the heat being on high, then dress in light layers to take on and off as needed. You can even keep a small handheld fan or desk fan to cool yourself down quickly. If it's usually cool inside, keep yourself comfortable by having a sweater, a light jacket, or even a blanket on hand.
Use the office wisely
Take advantage of the coworking space you're a member of! This is beyond just coming in to get work done and then leaving; it's about utilizing the space to be productive, for networking, and for your comfort. Find the things that are unique to your specific workspace and take advantage of them.
For example, at our shared offices in Florida, you may be able to enjoy stepping outside for a break all year round or even working outdoors! The shared spaces are equipped with beautiful verandas or balconies that face pleasing destinations around Florida. This allows you to move about the space, switch up your scenery to work outside so you stay in a fresh, motivated mindset.
Research ergonomics
Ergonomics are always prioritized in an office setting, but you may have to do extra research into what's best for your body to be as productive as possible if you work in a shared workspace. Here are few ergonomic accessories to consider:
Lumbar support pillow

: These pillows make it easy to support your back while working. If you've ever felt back pain or numbing in your legs after a long day at work, then try bringing a pillow into the office. This small accessory is easy to carry to and from the workspace, and is available no matter your desired price point.

Foot hammock

: This fun desk accessory is perfect for added back support. Elevating your legs can help release tension from your lower back. Plus, it's discreet and easy to take as you come and go!

Prescription sunglasses

: This may seem unconventional, but if you're going to use an outdoor space to get some work done, bring along prescription sunglasses so you don't have to strain your eyes to get your work done on your laptop.
Workspaces are an innovative way to allow remote workers to feel a sense of community while still allowing freedom and reducing the stress related to owning an office space. For some, it can feel hard to get comfortable enough to be productive in a space that isn't your own, but these tips will help get you feeling at home in no time.
---
Quest Workspaces supports a safe, undisrupted and compliant work environment. Our workspaces focus on private offices with onsite support that enables social distancing, and also offer virtual office packages and remote services to keep your business moving forward from your home or Quest office. Contact Quest today to find a flexible solution that works for you, and discuss how to benefit from our services while also complying with local COVID-19 mandates.

Call us at 800.268.1051 or email solutions@questworkspaces.com