What Employees Need From Workspaces in 2022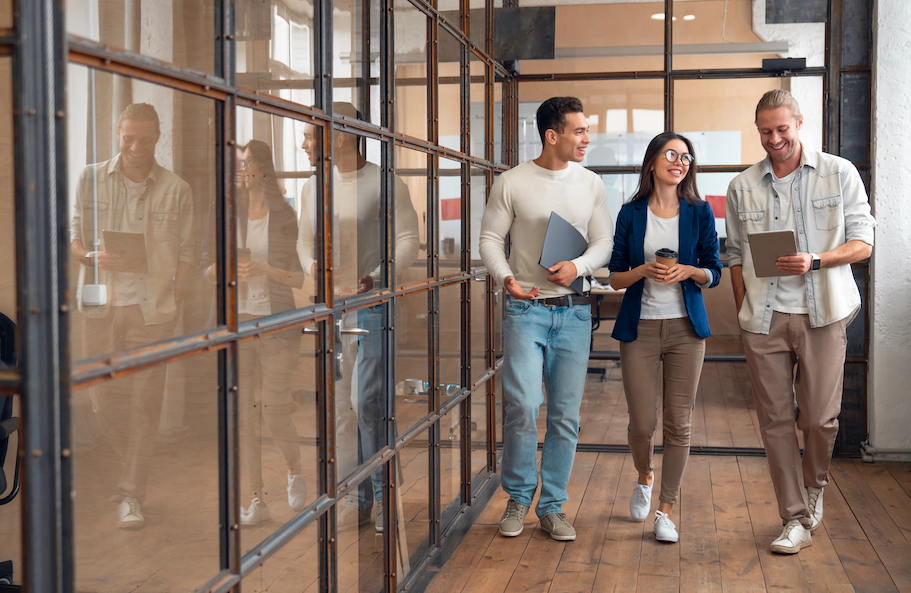 What Employees Need From Workspaces in 2022
As companies fast-track their re-opening plans amidst slowing COVID-19 infection rates, many hybrid workforce employers realize their workspace must change to hold value to employees. When employees have options to work from home, more must be done to lure them into the office and encourage them to stay productive and efficient. This blog looks at employee workplace necessities that help keep employees engaged and productive while creating standardized business practices.


Flexible Workspace
A recent survey reveals that 9 out of 10 employees prefer flexible workspaces over the traditional rigid offices. A flexible workspace is adaptable to diverse responsibilities and needs of the workers. Considering the massive impact that physical offices have on work productivity and efficiency, redesigning the traditional office spaces to be flexible workspaces can significantly increase employee productivity and efficiency. Innovative offices should have a variety of areas while providing options tailor-made to suit diverse work styles and psychological needs. These workspaces are designed to provide employees with various places and ways to work. They feature several creative desk layouts, such as hot desks or non-fixed desks, and flexible work schedules.


Collaborative Environments
Today's employees value an open-plan work environment where all departmental employees are accommodated in the same room. Collaborative work environments are not only fun and involving, but they also exercise employee creative instincts. Working in collaborative environments means getting work done faster as it allows employees to interact and constructively explore their ideas in the search for a way out that's more extended than one's vision. With a growing trend of hybrid work policy and millennials demanding a flexible working environment, there is a need to create workspaces that allow teams to communicate, collaborate and share ideas quickly.


Workplace Wellness Programs
As the world of work transform, one of the signs of the best-in-class employer is the quality of their workplace wellness program. Today, more and more employees value workplace programs that emphasize their well-being both in and out of the office. Designing and managing an employee wellness program is a crucial step to attracting and retaining top talent. Besides, wellness programs improve the health and productivity of employees while lowering absenteeism rates and the cost of health care. Some popular features of corporate wellness programs include physical fitness programs, work site screening and education, workforce meditation programs, outings and activities, financial and spiritual counseling, and more.


Hospitality Benefits
Workplace hospitality is a great way to not only attract but also retain quality employees by regarding them as valued guests, not just staff. With only 30 minutes for lunch, most employees are forced to eat fast food for lack of a better alternative. Employers who offer catered lunch and healthy snacks to team members throughout the day have a higher chance of attracting and retaining top talent. Promoting healthy eating in the workplace benefits everyone in the office. Ideally, healthy and communal eating routines encourage interaction between members of different teams. A workplace cafeteria provides an ideal environment where a large and diverse workforce can interact, connect and collaborate.


Meet Your Employee Needs with Quest Workspaces
As employee needs transform, modern workspaces must shift towards becoming more inclusive environments. Ideally, the office is no longer a simple way of employee containment as they undertake their daily duties. From the discussion above, it is apparent there is a need to redesign traditional workspaces to serve its employees and meet their diverse needs and expectations.
Unfortunately, not all small businesses have the resources to implement all the perks we have discussed. That is where Quest Workspaces comes in. We provide stylish, well-equipped productive workspaces where your employees can interact, collaborate, and enjoy the flexibility they need. Our workspaces are designed explicitly with the needs of the modern employee in mind. Contact us today to find out more.
---
DOWNLOAD OUR FREE EBOOK BELOW:
---
Quest Workspaces supports a safe, undisrupted and compliant work environment. Our workspaces focus on private offices with onsite support that enables social distancing, and also offer virtual office packages and remote services to keep your business moving forward from your home or Quest office. Contact Quest today to find a flexible solution that works for you, and discuss how to benefit from our services while also complying with local COVID-19 mandates.

Call us at 800.268.1051 or email solutions@questworkspaces.com