The Rise of Resimercial Design In The Modern Workplace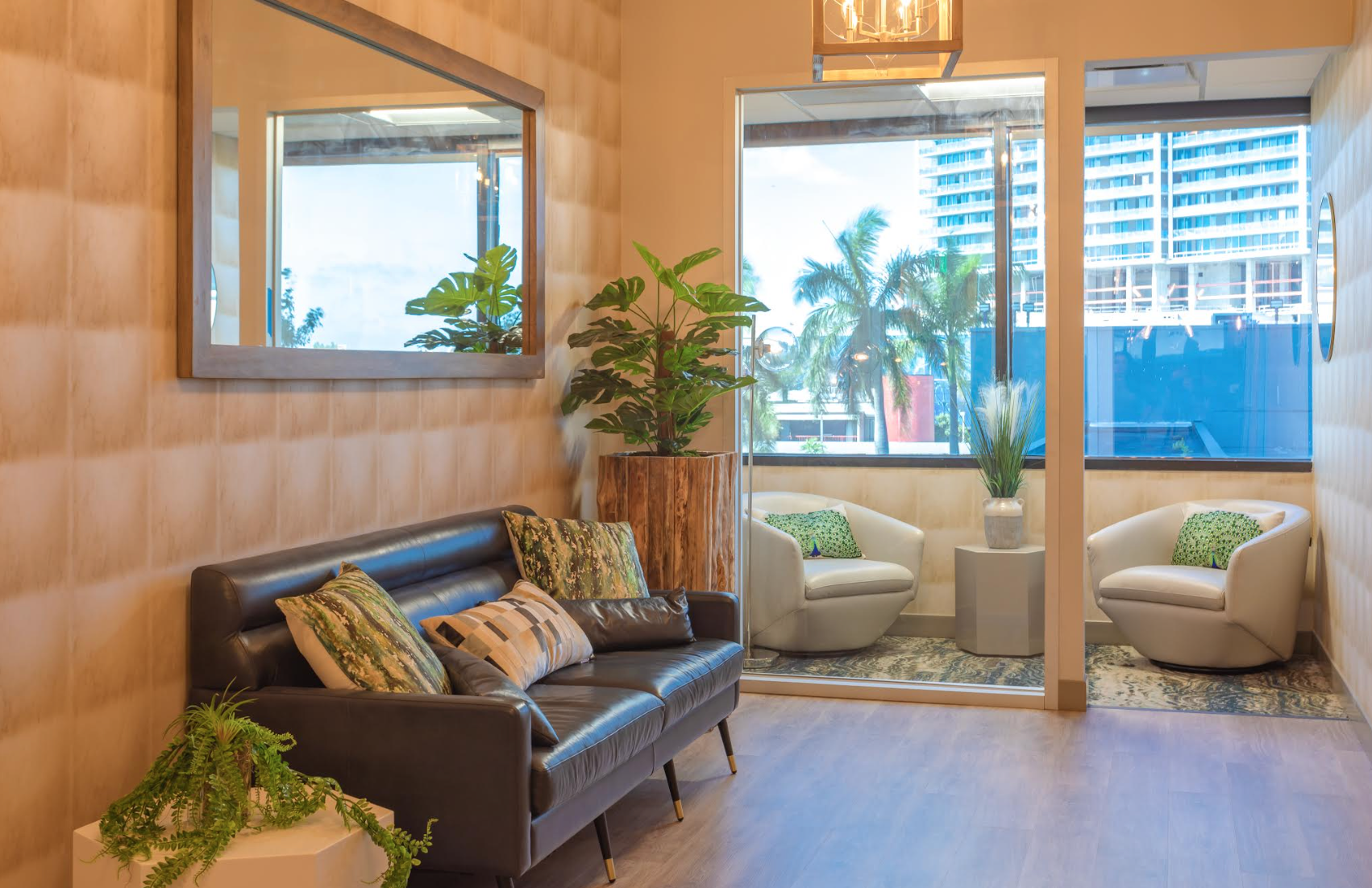 The Rise of Resimercial Design In The Modern Workplace
Today's employee searches for comfortable, inspiring, and productive spaces that guarantee serenity while nurturing creativity. To meet these expectations amid fierce talent competition, forward-thinking companies increasingly turn to resimercially designed offices that bring the comfort of home into the workspace. These new designs are a cost-effective way to lure remote workers back to the office while maintaining the vibe and comfort of a home environment.
This blog discusses the rise of resimercial design in the workplace and how companies can leverage coworking spaces such as Quest Workspaces to meet the ever-changing needs of their workforce.
What is resimercial design?
Resimercial design brings residential features into commercial spaces to create a comfortable, relaxed, and homely work environment. Over the past few years following the pandemic, employees became accustomed to the comforts of home. As they transition back into the office, employers must be willing to adapt their in-person work environments to suit the needs of employees. Employees today expect warm and comfortable spaces over a stark, cold atmosphere common in typical offices. They also crave diversity and choice regarding where and how they work. A cost-effective way for start-ups and SMEs to meet these expectations is to incorporate resimercially designed coworking spaces into their work model.

Features of resimercial office design
The following are some of the critical characteristics of resimercial design:
Floor layout

: Resimercial spaces blend open plans with private meeting rooms and alcoves that allow workers to collaborate or work alone as needed.

Lightin

g: Resimercial office spaces are also designed with a lot of focus on natural light. This reduces the need for artificial lighting to help make the office more sustainable while making the spaces feel more open and natural.

Decoration

: These spaces borrow the design and décor features standard in residential sunrooms. Designers often combine large windows, live plants, bookshelves, and furniture made with natural materials to make the workspace more warm and welcoming. Additionally, the spaces feature soft fabrics and furniture such as island tables, barstools, lounge chairs, and couches to create relaxed and casual office environments.

Rugs:

Area rugs help reduce noise levels and improve hygiene while creating a warm, comforting atmosphere within the office environment. Rugs also feel homely and cozy, and adding them into an office space is an instant way to make teams feel calmer and more comfortable at work.

Amenities

: Resimercial design offers high-end amenities that add to the atmosphere of comfort and wellness. These include café spaces, catering options, gyms, meditation rooms, and onsite coffee facilities.

Why is resimercial design so popular?
As mentioned earlier, millions of people adapted to home working during the pandemic, which has changed the professional landscape for good. Employees used to comfortable, warmer home environments have reservations about returning to the cold and uninviting office environments.
Resimercially designed offices are the most effective way to lure employees from the comfort of their homes and into professional, comfortable, and inspirational spaces that guarantee a homey feel. Resimercial designed spaces available in coworking spaces have a myriad of benefits for both employers and workers. These include:
Attracts talent

: Resimercially designed workspaces make employees more comfortable and relaxed to boost retention while helping attract higher caliber talent. The designs inject personality, vibrancy, and individuality into your work environment, which reflects well on your brand, thus attracting millennial talent.


Increased productivity

: Employee productivity increases with higher morale. Since resimercial design prioritizes workplace wellbeing, employees feel good about coming into the office and are proud to belong to the professional community available in coworking spaces. A recent Forbes study reveals happy employees are

20% more productive

than their counterparts.



Improved company culture

: Relaxed and communal atmosphere available in resimercial offices encourages people to converse, collaborate and socialize. These spaces increase the number of workers at the office, meaning there are greater opportunities for individuals to mingle and build relationships. Resimercial design's ability to increase in-person involvement at the office leads to better company culture.

Leverage Quest Workspace solutions to meet the needs of your employees
In the wake of the rising need to return back to the office, it turns out free lunches, personal assistants, and enhanced benefits are not enough to lure remote workers from the comfort of their homes. Employees seek workplaces that evoke a sense of community, warmth, collaboration, and pride, which standard commercial offices lack.
At Quest Workspaces, we understand the pressure that companies go through to attract and retain talent in the rapidly evolving workplace. We offer resimercially designed spaces that allow employees flexibility to sit at a desk for intensive work or relax on a sofa and take a zoom conferencing call. To maintain a semblance of work-life balance employees crave, Quest Workspaces offers full access to dining and coffee rooms, lounge areas, working cafes, zoom rooms, gyms and meditation spaces, relaxation rooms, and more. Our office spaces feature comfortable seating, soft ambient lighting, durable upholstery, and residential-inspired accessories like rugs and lamps. Contact us today to schedule a tour in an office near you.
---