Quest Workspaces Recognized in the Inc. Best Workplaces 2020 List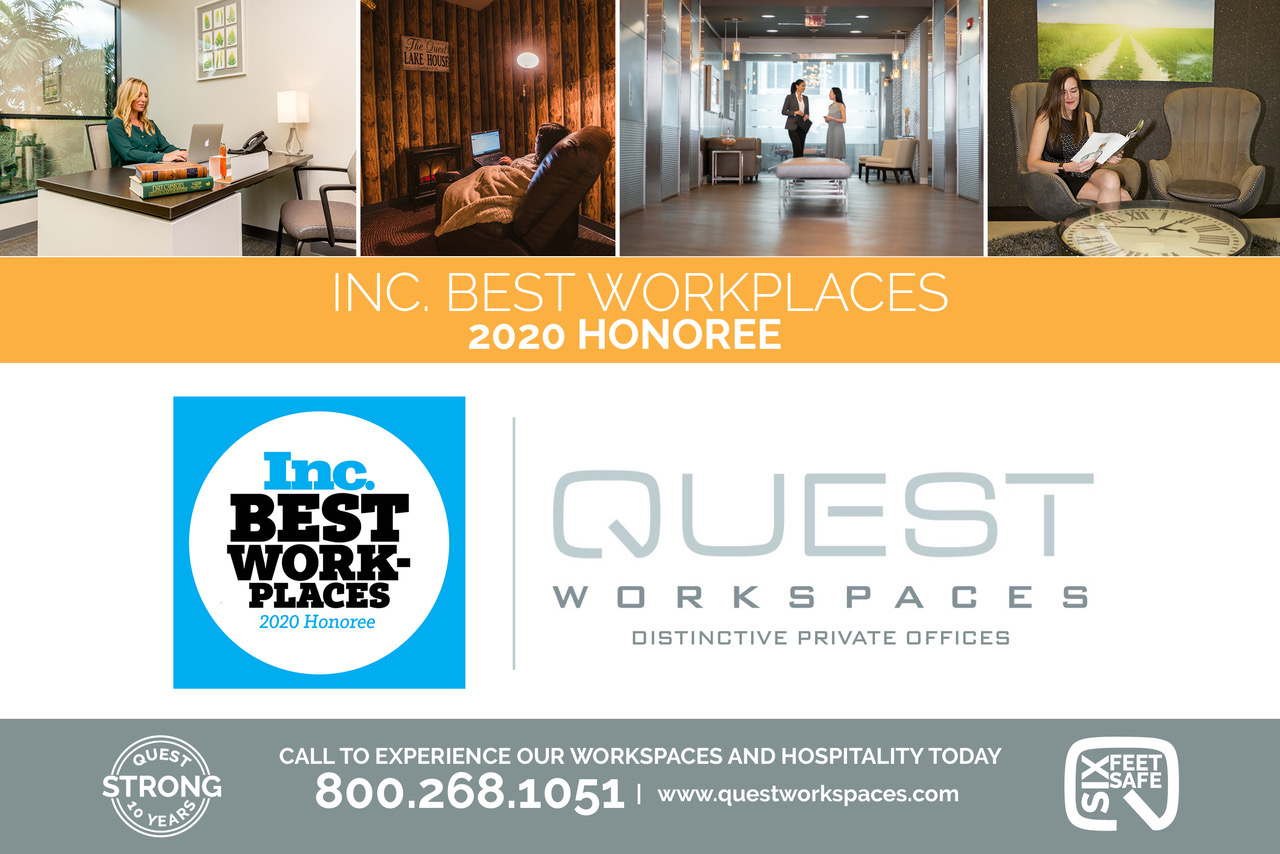 Quest Workspaces Recognized in the Inc. Best Workplaces 2020 List
Quest Workspaces is honored to be chosen by Inc. as one of the best places to work in the United States in their 5th annual Best Workplaces list. Inc., a distinguished business magazine, has recognized that core to our business, is a supportive and positive company culture, with warm and friendly hospitality, amidst thousands of competing businesses.
Our inspiration is founded in our mission. Quest Workspaces aspires to help entrepreneurs and business professionals thrive in a workplace culture that is spirited, welcoming and supportive. Our clients' prosperity is our priority. This devotion to success doesn't end with our clients, it is also deeply interwoven into the support and camaraderie that we, in the Quest family, share amongst our own. It's this supportive fiber that has made Quest Workspaces a great work environment that contributes to a culture of growth, fulfillment and enjoyment for our team and our clients.
In 2020, Quest is "Ten Years Strong" and here to support you through and beyond COVID-19 with Six Feet Safe private offices. To explore Quest Workspaces and see how we can help you establish distinctive private offices, supported by our first-class "Best Workplaces 2020" team, please visit us at QuestWorkspaces.com.
We invite you to read Inc.'s Best Workspaces 2020 list to see why Quest Workspaces has been ranked one of the best workplaces in the country.
Read the full press release.
---
Quest Workspaces supports a safe, undisrupted and compliant work environment. Our workspaces focus on private offices with onsite support that enables social distancing, and also offer virtual office packages and remote services to keep your business moving forward from your home or Quest office. Contact Quest today to find a flexible solution that works for you, and discuss how to benefit from our services while also complying with local COVID-19 mandates.

Call us at 800.268.1051 or email solutions@questworkspaces.com