Steps Businesses Need to Take to Mitigate Risk & Support Customers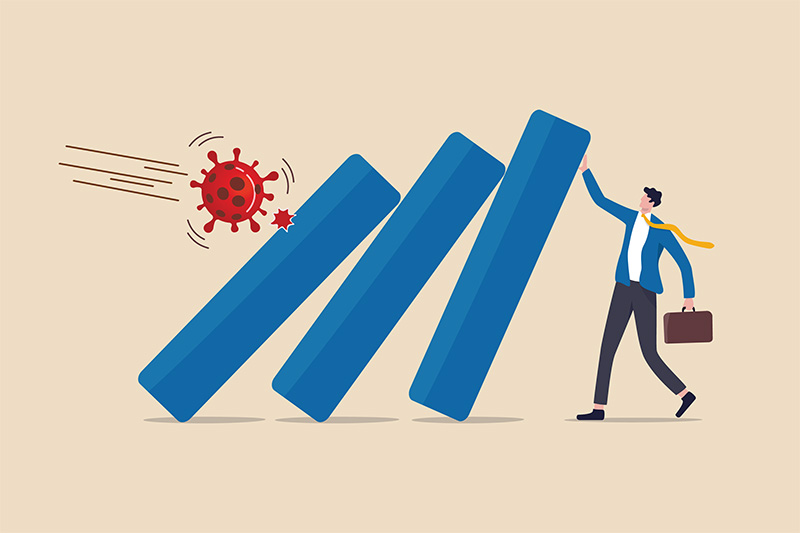 Steps Businesses Need to Take to Mitigate Risk & Support Customers
The COVID-19 pandemic has disrupted life and business as we know it. Companies across industries and around the world have been significantly impacted by the pandemic and business owners have had to adapt to the new normal of staying home.
For small business owners, the speed and scope of this situation has been particularly challenging, especially given that no one knows how long the pandemic will last.
But fear not! We have prepared this to-do list to help small business owners navigate these strange times and ensure that your customers, employees and company thrive.
Stay Informed. Communicate Often and Honestly
First and foremost, you need to to stay up to date with the latest COVID-19 information. This will ensure that you make informed decisions in every aspect of your life and business.
Any relevant information that affects your business should be shared with your workers, customers, suppliers and even other companies near you. This will demonstrate that their health is an absolute priority and this is an excellent way of building long term business relationships.
Develop a Company Preparedness Plan
If you haven't done so already, it is important that you develop a comprehensive company preparedness plan that informs everybody about how your business will operate during this time.
Such a plan will also show your employees that you are committed to doing the best you can for their health and safety while also keeping your business objectives in sight. Remember that everybody is looking to leaders to provide a sense of direction; showing staff that you have a plan can go a long way in helping keep people focused and reduce anxiety and stress levels.
Prepare Support Measures for your Employees and Customers
Supporting your employees and customers includes establishing guidelines that ensure that everyone stays safe. If your company requires that people come into the office, post a few notices in the workplace to encourage frequent hand-washing, advise people of your company's mask-wearing policies, and consider making cleaning products (wipes, paper towels, etc.) readily available so people can clean after themselves, and make sure that workstations are at least 2 feet apart from one another.
If possible, encourage workers to work remotely if their role allows it; embrace technology and prioritize telephone and video meetings over in-person collaboration.
To make sure your customers also feel well taken care of, you should consider ramping up your cleaning and disinfecting efforts. Ensure that door knobs, water taps, switches, copiers and other constantly touched items are being regularly disinfected.
Consider curbside pickups to minimize unnecessary contact, if this is appropriate for your business model.
You should also limit the number of people (employees and customers) that are inside your store or office at one time. Offering cashless transactions is also a great way to lessen contact with customers. Now is also a good time to create an online sales channel since most businesses are transitioning to a digital method of operation during the pandemic.
Research and Apply for Aid Packages
There are several aid packages available for small businesses, including the CARES Act Payroll Protection Program. One place to get started searching for available programs could be your local small business association or the government's SBA website.
Researching which options are available to your business can help ensure that you can better weather this storm and plan for the future. Before you apply, make sure that you have all the necessary documentation ready.
Create a Plan B
We don't know how long the pandemic will last and when local governments will lift shelter in place orders. As a small business owner, you need to create a plan B should things worsen or last longer than originally thought.
Go through your financials, your business plan, and your operating model; how will it be impacted in different potential scenarios? What changes can you implement to lessen the impact? How would you like management and staff to respond?
---
Quest Workspaces supports a safe, undisrupted and compliant work environment. Our workspaces focus on private offices with onsite support that enables social distancing, and also offer virtual office packages and remote services to keep your business moving forward from your home or Quest office. Contact Quest today to find a flexible solution that works for you, and discuss how to benefit from our services while also complying with local COVID-19 mandates.
---