Quest will soon open hospitality-driven coworking space - Coral Gables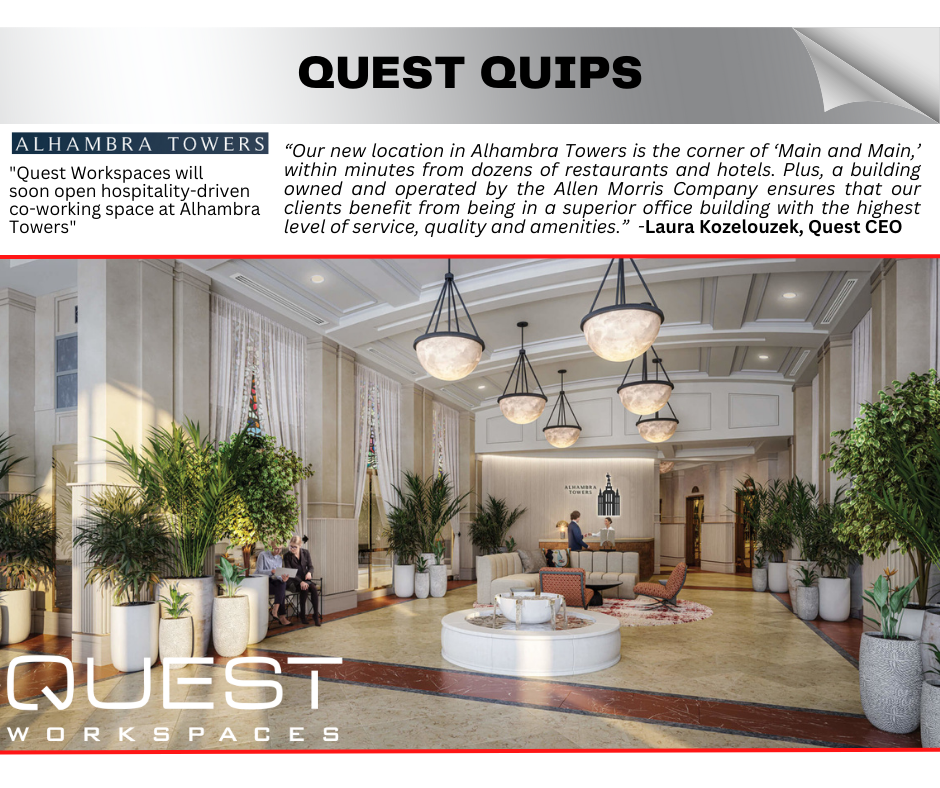 Quest will soon open hospitality-driven coworking space - Coral Gables
Quest Workspaces is starting 2023 with a bang by signing a 22,252-square-foot lease with the storied Allen Morris Company, one of the Southeast's largest real estate firms, at Coral Gables' coveted Class A+ office complex Alhambra Towers. Quest Workspaces' co-working spaces will occupy the iconic office building's entire 10th floor. The new location will be Quest Workspaces' 13th location throughout Florida and New York and is expected to open in Q3 2023.
Hospitality-Driven Co-Working Space
Alhambra Towers' 10th floor is ideally suited for the hospitality-driven co-working spaces and hybrid offices for which Quest Workspaces is known. The space includes private offices (most with expansive windows), shared meeting rooms and conference rooms of various sizes, and one-of-a-kind amenities, including three large wrap-around, multi-use terraces offering 360-degree views of the city. Quest Workspaces plans on renovating the terraces, turning them into furnished and fully landscaped Zen-like outdoor spaces for building tenants to use for lunch or coffee breaks, casual meetings, recreation and special events.
"We are so excited to expand our presence in Coral Gables and bring our unique approach to co-working and shared workspaces to more businesses and entrepreneurs in our community," said Laura Kozelouzek, founder and CEO of Quest Workspaces. "Our new location in Alhambra Towers is the corner of 'Main and Main,' within minutes from dozens of restaurants and hotels. Plus, a building owned and operated by the Allen Morris Company ensures that our clients benefit from being in a superior office building with the highest level of service, quality and amenities."
Quest's lease coincides with a $4 million renovation of Alhambra Towers' lobby and common areas and the addition of a ground-floor destination restaurant, scheduled to open this summer. The location of the building in the heart of Coral Gables, coupled with Quest Workspaces' successful operating structure, is ideal for the post-pandemic hybrid office model that many business owners, entrepreneurs and employees desire.
Contact us today to tour our new Coral Gables location today.
---