Quest Cares Picnic: Having Fun and Giving Back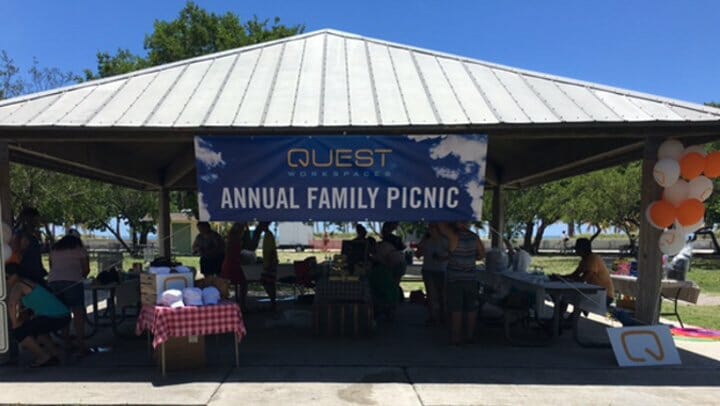 Quest Cares Picnic: Having Fun and Giving Back
At Quest, our favorite events are ones that are fun and give back to the community at the same time. It's our culture; the way we roll. And it's the culture behind our Quest Cares programs that reach out into the community and lend a helping hand to non-profit startups.
So we got pretty excited about our Quest family picnic held at Crandon Park in Miami. Quest family and friends, along with our partners, gathered together to have fun and support Quest Cares.
Raffles were held for Asus laptops and Lenovo tablets and the always-popular Johnny Walker gift basket; all donated by Quest partner, IDF. The raffles raised a total of $2,400! Quest Cares recipients, The Unity Coalition, Ark of Freedom and NVEEE, each received $800.
We also announced our Quest Gold Star Award winner. This award is given each quarter to a team member who excels in every aspect of his or her position. Best of all, nominations come from peers. This quarter's recipient is the amazing Rachel Granda, Ops Manager of our Boca Raton Office. For her efforts, Rachel left the picnic with a $500 check and a day off to spend it on!
As for the picnic itself, let's just say no one left hungry and no one left clean. We started with some amazing b-b-q cooked by chef extraordinaire, Obi Nnolim, (AKA our Ft. Lauderdale Manager). There were potato sack and 3-legged races, a tug of war and lots and lots of water balloons thrown. Someone counted 500 (don't ask us how they knew). And for those with energy to spare, there was paddle boarding and kayaking. Did it get a little crazy? Of course!
So how do you top off a day like this one? Quest-style; with a huge water fight with ice cold water from the coolers. Hey, who needs balloons anyway?
---