5 Ways To Boost Team Productivity & Positivity With Flexible Workspaces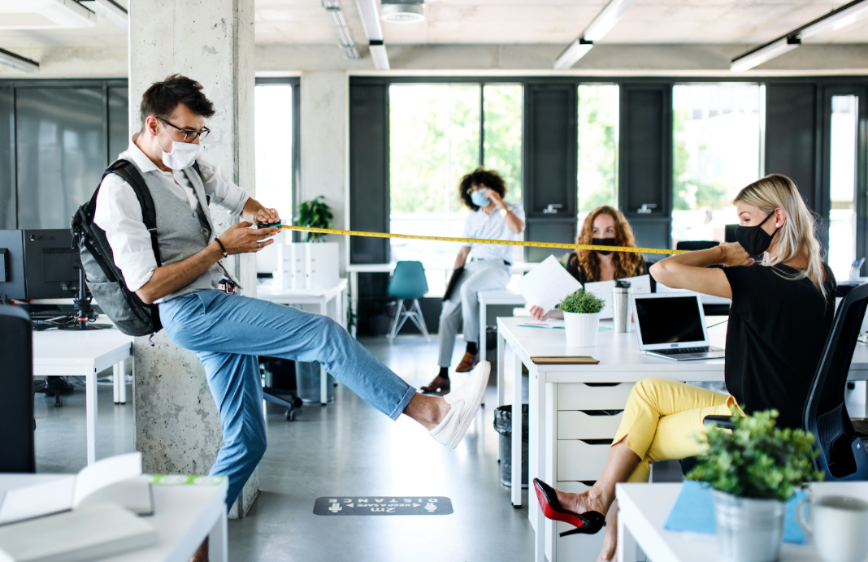 5 Ways To Boost Team Productivity & Positivity With Flexible Workspaces
The pandemic threw the traditional office into a spin. A year since COVID-19 struck, businesses and organizations stifled by the virus are stirring back to life. Yet, the office environment may never be the same again. Flexible private offices and virtual offices have become some of the best ways to restore teams in a safe and positive environment. Now, the challenge is to restore team productivity and positivity so your business and your people thrive.
Keeping your teams productive and positive in this challenging environment can be tricky if you don't know what to do. Here are some tips to help you out:
1. Enhance the mental and physical health of your employees in a six-feet-safe and sanitized environment
Mental and physical health are key factors affecting the productivity of teams. If you take the right steps to ensure that all of your employees remain mentally and physically healthy, especially in pandemic times, your organization will perform to the levels your business needs to grow and thrive.
It is vital to ensure your people are safe. Working in a sanitized office environment that has established COVID-19 protocols is essential to stem the fear of COVID. Providing this environment will provide the peace of mind your team needs to focus on their work and perform at optimum levels.
To enhance the mental and physical health of your team, ensure the workspace you choose has documented COVID protocols that are actively in place daily. If your team is experiencing anxiety or stress, be sure to make resources are available to provide help. National hotlines such as the SAMHSA National Helpline, 1-800-662-HELP (4357), are available 24/7 and can be found with simple online searches.

2. Re-introduce human socialization at the workplace

For the better part of the past year, teams have been working from home, and largely in isolation. However, as people get back to the workplace in new office settings, they are sure to crave human socialization. This will be key to helping teams remain positive and enhancing their productivity.
Re-creating company culture through socialization will boost employee motivation and fulfillment. Former Harvard Business School Dean and Professor, Nitin Nohria, and authors Boris Groysberg and Linda-Eling Lee highlighted in a recent Psychology Today article the importance of, " …developing a company culture based on friendship, mutual reliance, collaboration and sharing." The authors also highlight the adverse affects of not creating a culture of socialization, "Employees who do not feel a sense of friendship, mutual reliance, collaboration or sharing are more prone to feelings of dissatisfaction."
To re-introduce socialization, consider asking your team or conducting a survey to find out what is most meaningful to your team and how they feel most comfortable socializing. There are many online resources available that can provide simple techniques and initiatives to get you started. One great resource is Great Place to Work: https://www.greatplacetowork.com
3. Encourage person-to-person interaction to boost creativity among your teams
Scott Birnbaum, Samsung Semiconductor Vice President, stated that the most creative ideas didn't come while people were sitting in front of their computer screens on their own. The chief of human resources at Yahoo agrees with Scott—he maintains that some of the best decisions and insights are the products of person-to-person interactions in hallways and cafeterias.
To boost productivity and help your teams remain positive, flexible workspaces can provide a solution that fosters the inter-personal relationships that are crucial to enhancing creativity and generating shared ideas. These environments allow you and your team to have the flexibility to be in a physical office at the times you need, and out of the office as you need. You can even arrange staggered working hours so that your entire team doesn't need to be in the office at the same time (which will also save your budget by reducing your total office space needs). The meeting rooms and video-conference rooms provided in shared workspaces also enable you to use professional and high-tech capabilities "on-demand" and with full support.
When you can balance a workspace that supports person-to-person interaction with the time away that you and your team need, you can stay positive, motivated, creative, and most efficient (and save on your office budget!).
4. Help team members balance work and family
Your teams can be more productive if they can establish a balance between work and family. Good flexible workspaces help teams to keep in check with their families, especially during challenging times such as we're experiencing through COVID. Team members likely have added family challenges—from illnesses, through to children in remote learning situations, and other new demands that require the ability to work with balance and sensitivity.
Laura Kozelouzek, Founder & CEO of Quest Workspaces, created Quest to help professionals and entrepreneurs have balance and thrive on their "quest to success." Laura's own story was her motivation to create Quest Workspaces, "I wanted to have the time to raise my son and not be absent because of an office work schedule. I want to help others to have the flexibility and freedom to thrive in their lives—that's what Quest is about."
Flexible workplaces can help you to provide balance and sensitivity so your team can manage unexpected situations that are likely to arise. Creating team performance metrics so that team member performance is not dependent on the time in the office, but rather the outcomes they produce, is more important than ever.
5. Foster team growth and development for employee and manager retention
Your teams will work better if they feel they have job security and satisfaction. Even amidst the uncertainty of a pandemic, there are ways you can help your team greet each day (and your customers) with confidence and positivity.
You can help the growth and development of your employees by reviewing and redesigning your team growth and development plans, cross-training your team, and undertaking leadership and team development activities. The physical environment you create for your team also plays a key role in performance and development.
Flexible workspaces enable you to create a tailored physical environment for your team that best supports their work, as well as their motivation, creativity, and sense of belonging and security. A recent report in Business News Daily highlighted the extent to which the work environment impacts mood, drive, mental health and performance, "If employees work in a dreary office setting with unfriendly workers, they likely won't have enough confidence or job satisfaction to speak up."
---
About Quest Workspaces
Whether you are a small or large business, Quest Workspaces has flexible terms and structures to accommodate your teams and help them to thrive. You can choose from a range of tailored private offices that accommodate from one person up to teams of thirty. Alternatively, an office hours package, or virtual office service might meet your needs better. We are committed to ensuring your business and your team grows, thrives, and stays positive even through difficult times.
Please contact us to talk about a solution that will help you,
your team, and your business thrive.
---
Quest Workspaces supports a safe, undisrupted and compliant work environment. Our workspaces focus on private offices with onsite support that enables social distancing, and also offer virtual office packages and remote services to keep your business moving forward from your home or Quest office. Contact Quest today to find a flexible solution that works for you, and discuss how to benefit from our services while also complying with local COVID-19 mandates.

Call us at 800.268.1051 or email solutions@questworkspaces.com