2015 Best Places To Work
Source: South Florida Business Journal
Each year, the South Florida Business Journal honors local businesses with the coolest reputations and best work environments for employees. We're proud to announce that Quest Workspaces has won third place for 2015!
In 2014, Quest Workspaces was ranked 12th out of a variety of great companies in South Florida. Immediately after last year's nomination, Laura Kozelouzek, CEO and founder of Quest, vowed to improve the Quest Workspaces environment even further.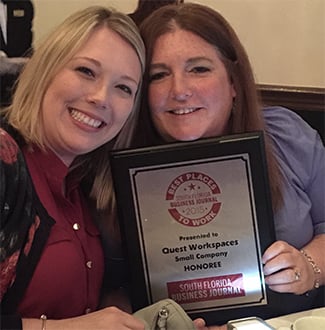 "Strengthening our mission statement together as a team, committing to it and living by it, was the most important first step," Laura said. "We also realized that it starts with the right hires, who are aligned with our culture and values. If they don't possess the energy working for Quest requires, a desire to help others, integrity, and a drive to learn and grow, we won't move forward. Values and personality are considered more than resumes in recruiting our rockstars."
Quest's COO, Nancie Dudash, mirrored this sentiment. "We took it one step further by distributing our first team member survey. Our team provided invaluable feedback that resulted in changes to our paid time off policies, a "blanket" bonus plan for all team members, evaluating our staffing model for promotional opportunities, improvement of benefits packages and introduction of formal training programs. This led to a much better work-life balance."
The Quest team has long been proud of the environment that we've generated for our clients. We're equally proud of the environment we have for our employees.
---
Quest Workspaces supports a safe, undisrupted and compliant work environment. Our workspaces focus on private offices with onsite support that enables social distancing, and also offer virtual office packages and remote services to keep your business moving forward from your home or Quest office. Contact Quest today to find a flexible solution that works for you, and discuss how to benefit from our services while also complying with local COVID-19 mandates.

Call us at 800.268.1051 or email solutions@questworkspaces.com